Ace'n Agility's Manners Classes
Right from the Start!
Ace'n Agility is the perfect place to start the learning process with your new puppy or dog!
PUPPY HEAD START
For puppies 8 to 16 weeks. In this class, we start with basic foundation skills. Our main purpose is puppy socialization, where we discuss all things puppy. All puppies that complete this 6 week class are eligible for the AKC Puppy Star Award. Class is 6-50 min sessions @ $120 + tax.
GOOD DOG – EVERY DAY MANNERS
For dogs over 2 months old with no previous training. To find success with your dog, you must first build your dog's ability to focus on you in a distracting environment. We will cover the basics of crate manners, sit, down, come and leave it. Introduction to leash walking and shaping. NOTE: It is strongly recommended that your dog complete a Good Dog – Every Day Manners class before starting agility training.Class is 4-50 min sessions @ $100 + tax.
SUPER DOG – BEYOND THE BASICS 
For dogs who have completed Good Dog – Every day Manners (or have previous training) We move on to some of the more difficult commands, like come when called, sit through distractions and advanced mechanics of leash walking. We'll continue to address pulling, jumping and more challenging behaviors like "Park It", door manners and advanced shaping, through the use of fun games and group exercises. Class is 4-50 min sessions @ $100 + tax.
ADDING DISTRACTIONS – RECALLS & MORE 
Distractions are a part of everyday life with our dogs.  Some distractions may only momentarily sidetrack your dog from what you want, while others may have them pulling at the end of their leash completely oblivious to what you say or do.  Every dog is susceptible to getting distracted.  Our goal in this class is to help both you and your dog feel more confident to handle whatever situation life throws at you.
This class focuses on building impulse control & working through distractions that challenge you in your training.  You will learn how to address different types of distractions as well as continue to build a better relationship with your dog through games.  A large emphasis will be placed on working around distractions in a recall setting.  This distraction training class will build a baseline for your dog to work through distractions effectively & fine-tune their recall skills. Class is 4-50 min sessions @ $100 + tax.
AKC CANINE GOOD CITIZEN PREPARATION AND EVALUATION 
Canine Good Citizen Prep is for dogs that have a good skill set in the basics in obedience. Now we'll add more distractions to create more reliability in uncertain environments. We'll also layer in manners, with respect to how your dog behaves around new people, other dogs, and more real-life scenarios. This class will prepare you to take the AKC Canine Good Citizen evaluation. It is an excellent goal for you and your dog to strive toward, and a great starting point for potential therapy dogs. AKC CGC Evaluation on week 4 of class. Class is 4-50 min sessions @ $100 + tax.

CUTTING CORNERS FOR LOOSE LEASH WALKING
Are you tired of being dragged around? Is your dog is a chronic leash puller? If leash walking is a misery then this class is for you! Learn how to walk your dog using the Fenzi "cutting corners" method. It can work even for dogs where other approaches have failed. It requires no food, no highly controlled environments, and allows for reasonably inexperienced handlers. This method is equally suited to a young puppy on dog directed socialization outings as it is for strong adult dogs with years of practice pulling on walks. And the best part? It works fast and without compulsive techniques by reducing frustration in both the puller and the pullee! This method has also helped to reduce reactive behaviors when walking on a leash. Class is 1-30 min session @ $25 + tax. Coming soon: Group sessions
FIT DOG
Fitness can play a huge role in both you and your dogs living longer, happier and healthier lives. What if you could work on your dogs manners while getting exercise? Win Win! Meet up with your instructor each week at a different location and work on loose leash manners, recalls and leave it during a 30 min walk.
Earn the AKC FIT DOG magnet and proudly declare to the world that you are committed to your dog's health and fitness through regular exercise.
AKC Fit Dog criteria can be found on their website: https://www.akc.org/sports/akc-family-dog-program/akc-fit-dog/
Class is 4-30 min walks @ $75 + tax.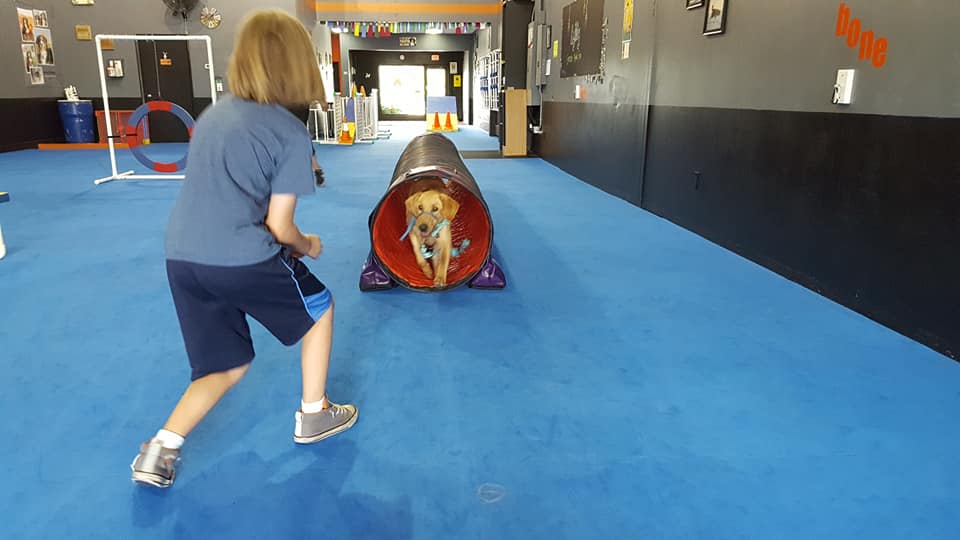 KIDS CAN TEACH – OBEDIENCE, TRICKS, NOSEWORK and AGILITY
Kids will be working with their own dogs on skills and games that ultimately lead to bonding with their canine companions.
Week 1 – Obedience: Kids will work with their dogs on sit, down, recall, and no jump greetings
Week 2 – Tricks: In this class the kids and their dog will be working on dog tricks including spin, shake and peek a boo
Week 3 – Nosework: Dogs will learn all about nosework finding treats hidden in boxes and buckets
Week 4 – Agility: In this class the kids and their dog will become familiar with the dog agility equipment in our indoor course, including an a-frame, tunnel, jumps and the table
Class is 4-50 min sessions @ $100 + tax.
Open to Jr Handlers age 10 – 18